Sunday, October 23, 2005
This is old news by now: for the last week: Muslim demonstrations in front of Saint George's Church in Alexandria (more about this
here
), and as we're in the midst of all that week of religious hate and sectarian tensions, a Muslim young man two days ago stabbed a Coptic nun in the outdoors of the Church, in addition to a Christian man (said to be a lawyer) who tried to rescue her.
Both the nun and the lawyer are not in a dangerous state and are being treated.
Pictures:


Two pictures of the terrorist being arrested.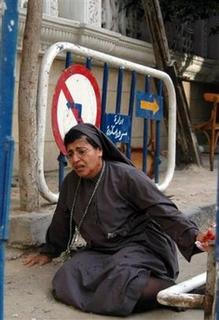 Nun Sarah in her blood
posted by Matthew Schauki at 10/23/2005 12:09:00 AM 7 comments